Contact us using the form below :-
Animation not showing after download
We've received some emails from people having difficulty viewing downloaded animations.
Please note that when downloading an image from the web, it will often open in a separate image viewer, instead of being displayed in the web browser. Although all web browsers support animations, not all image viewers support playback of animated .gif files.
If you can see the animation in the "Animation preview" window, but not in the downloaded file, then your image viewer does not support animated gifs.
If you're using a Mac, check the following page for a solution:
Animated GIFs in OS X
.
If you're using Windows or another OS, you can either set .GIF files to open using a web browser (in Windows Explorer, My Computer or My Documents/My Downloads, right-click on any .gif file, then "Properties", then "Open With" and select Internet Explorer or another browser), or you can use an image viewer that supports animation, such as
FastStone Image Viewer
or
IrfanView
.
(IrfanView may play animations at a slightly slower speed than normal).
Is the site free?
Glitterboo is free to use for basic effects and download sizes.
Paid members get access to all 20 effect categories and can download images and animations at full size (up to 2000 pixels on longest side for static images and up to 800 pixels on longest side for animations).
Click here
for details and signup form.
Please note: Site memberships are paid-only, if you want to use the free version of the site then you don't need to signup. Click here to go directly to the photo editing page.
Is the site available in my language?
Currently we don't have multi-language support, however we have added automatic translation buttons to the top-right of this FAQ page and also the
How it works
page and
Choosing a photo
page.
Are images with transparency supported?
Yes! As of Glitterboo version 1.1, you now have the option to preserve full transparency from uploaded images. This currently only works for animation downloads at the moment.
If the original file is a .GIF or .PNG, and has fully transparent areas, then these areas will also be transparent in the downloaded animation. Note that transparent areas will appear as black in the main preview window, however you can click on to the animation preview where the transparent area is shown as a checkerboard pattern background: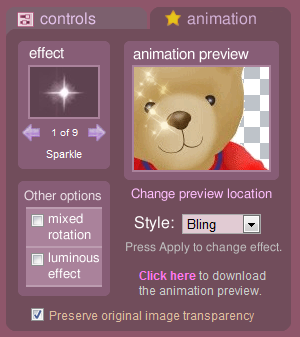 (Teddy Bear clipart courtesy of DailyClipArt.net)
You can also turn off transparency in the downloaded animation by clicking off the "Preserve original image transparency" checkbox. The transparent areas of the image will then come out as black. If no transparency was detected in the uploaded image, then this checkbox will not be displayed.
PNG files with alpha channel opacity can also be uploaded, but only the areas in the image that are completely transparent will come out as transparent in the animation (this is because animated .GIF files only support a single level of transparency).
The effects are being cut off by the transparent edge of my animation
Please note that the transparency support (described above) simply retains the original image transparency, so if you have effects very close to the (transparent) edge of an image, then they may get "cut-off" by the transparency.

You can check for this using the Animation Preview window, and it can be avoided by either not adding effects to areas which are very close to the transparent edge, or using smaller effects by reducing the "Max Size" slider.

What happens to the background color in transparent images?
New option in version 1.3: You can now select a background color to use when uploading images with transparency (.GIF or .PNG image formats).

After uploading an image with either transparent or semi-transparent pixels (alpha channel), a background color selection page will appear. You can select what background color to use when dealing with transparency.

This is especially useful when you upload a .PNG file with alpha channel transparency. In this case, some of the pixels are not fully transparent. However, the .GIF animation format only supports full transparency, so we need to decide what to do with the semi-transparent pixels.

By selecting a background color here, you can blend the semi-transparent pixels into the background while also keeping the fully transparent parts of the image.

For best results, select a color that is similar to what the intended background color of you uploaded image was.

If you're not sure what color to choose, just press "Continue" to try the default (black). If you notice jagged pixels around the edge of your downloaded animation, you might want to try choosing a different background color when uploading.

The background color selection also controls the color used for fully transparent areas for static (.JPG) downloads.

I can't see any effects after downloading the image
If you can't see any difference at all between your original image and the downloaded version, you may be both using an image where there is not enough contrast (or light/dark areas) in the image at higher resolutions, and also selecting small areas of the image for effects.
In this case you can try reducing the "Max Size" slider to make the effects smaller and more uniformly spread out, and also try increasing the "Intensity" slider. If you still have problems with this, let us know via the contact form above and we will try to help.
Please also see the
How it works
and
Large image sizes
pages for more details.
Can I upload an animated GIF?
You can use animated .GIFs as the uploaded image, however the animation will not be preserved. This is because, techincally, it's very tricky to merge two different types of animation, since properties such as the speed of animation and delay between each animation frame are usually different for each file.
Can I use more than one effect on a picture?
At the moment, to keep the controls simple, you can just add one effect at a time to an image.

However you can always download and re-upload the modified image if you need to add different effects. This will work for static images. For animations, the last used effect is the one which will be animated. We recommend trying out the editing page and sample photos to get a feel for how it can be used.
Can I use animations in Windows Movie Maker?
Yes, Windows Movie Maker supports loading in animated .gif files as part of a movie.
You will need to adjust the timeline in moviemaker for each file, to set how long it plays for, otherwise it may just play for a default of 5 seconds.
First check that the timeline at the bottom is displayed by going to View and Timeline.
Then use "Import media" to load the .gif file, and add it to the timeline by dragging it there.
You can now adjust the playing time of the animation by dragging the duration slider on the timeline at the bottom.
More information is available here:
Microsoft Windows Movie Maker and animated gifs
Can I resize animations?
If you're using a number of different photo editing tools, it's easiest to create the right sized image first, then add animation effects on glitterboo and download as "Original size" as the last step (up to 800 pixels width/height for members).
This means that the image you download will be the same size as the one uploaded.
However, you can also resize animations with software such as
Jasc Animation Shop 3
(Windows download). Load up Animation Shop, open the .gif file, then select "Animation" and "Resize Animation", and then "Save As" to save as a new file.
Can I speed up/slow down animations?
This isn't supported in the current version of Glitterboo, however we may add it later. You can change the speed of the downloaded animation file in other software though. In Jasc Animation Shop (see question above), the process is as follows:

Load the .GIF file into Jasc Animation shop after first applying effects in Glitterboo.

Select all frames of the animation by pressing Edit->Select All.

You can now change the overall animation speed by going into Animation->Frame Properties and changing the "Display time" value. e.g. to 10. Use smaller values for a faster animation, and larger values for slower - you don't need to change this too much - for example if it's set to 7, changing to 10 will give a slower effect.

You can now save the modified animation file.


Can I add glittery text to a photo?
We're working on it :)
For the moment, you can create text using a site such as
glowtxt
first, download the text as a static .PNG file and then copy and paste it into your image with a graphics editor before uploading to Glitterboo.
We want to figure out a way to streamline this a bit better so will add support for it when we have a working solution.